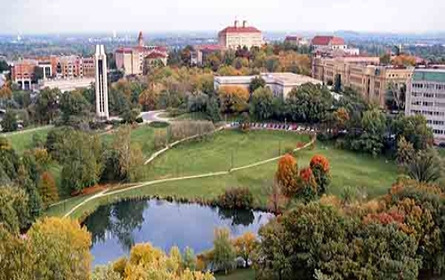 Announcement and Call for Abstracts
12th International Symposium on Reservoir Wettability and its Effects on Oil Recovery
Date & Location: October 7-8, 2015, The Oread Hotel, Lawrence, Kansas, 66044
Scientific Committee :
<![if !supportLists]> <![endif]>Reza Barati (University of Kansas)
Jill Buckley (New Mexico Petroleum Recovery Research Center)
Louis Cuiec (Institut Francais du Petrole)
<![if !supportLists]> <![endif]>Andrew Fogden (Australian National University)
Don Green (University of Kansas)
George Hirasaki (Rice University)
<![if !supportLists]> <![endif]>James Howard (ConocoPhillips)
Stan McCool (KU Tertiary Oil Recovery Program)
<![if !supportLists]> <![endif]>Norman Morrow (University of Wyoming)
<![if !supportLists]> <![endif]>Paul Willhite (University of Kansas)
Subject Areas:
oil recovery

crude oil/brine/rock interactions

waterflooding

spontaneous imbibition

multiphase flow in porous media

brine composition

low salinity waterflooding

crude oil adsorption and adhesion

wettability control

core preservation

wettabilty restoration

special core analysis

enhanced/improved oil recovery

clastics and carbonates

pilot tests

tar sands and heavy oil

wettability of shales

asphaltenes

network modelling

surface roughness

other
Please submit an abstract of
maximum 400 words
to this symposium by sending it to
wettability@ku.edu
for consideration by the technical committee by May 31, 2015. All abstracts will be reviewed by the committee and you will receive a feedback no later than July 31, 2015. If the abstract is accepted, you will be asked to submit your presentation slides on a template of your own by September 19th in order to guarantee your place in the program. Accepted presentations will require power point submission that should be reasonably self-explanatory. The collected PowerPoint presentations will be given to registered attendees.
Registration fees: $500 per person
Spouse registration: $50
Registration link:
https://quikpayasp.com/kansas/commerce_manager/payer.do?orderType=cpe_symp
Travel and Accomodations:
Venue Host hotel: The Oread
Alternative hotel 1: The Eldridge
Alternative hotel 2: Hampton Inn Lawrence
Directions to venue:
Kansas City International Airport Kansas City, MO 64153
Get on I-29 S/US-71 S in May from L P Cookingham Dr 4 min (2.8 mi)
Drive from I-435 S and I-70 W to Douglas County. Take exit 204 from I-70 W 39 min (45.0 mi)
Take US-40 W/US-59 S and Tennessee St to W 12th St 7 min (2.8 mi)
The Oread Hotel 1200 Oread Avenue, Lawrence, KS 66044